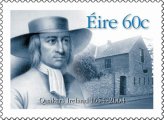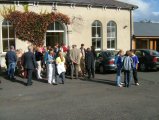 The Religious Society of Friends (Quakers) in Ireland
Quakers are a Christian denomination, committed to following the teachings of Jesus Christ. The first Quaker Meeting in Ireland was established in 1654. The following pages give details on Quaker Meetings and worship groups throughout Ireland, and of our activities within the Society, and of our service to all people.
Please see our updates page for 'recent' updates prior to April 2009 when the new version went live.
The left-hand picture is an Irish postage stamp commemorating the 350th anniversary of the Quakers in Ireland. The right-hand one is of Friends at Churchtown meeting-house in Dublin.